Senior Citizen Activity Center — Brief Project Summary:
India has a very high number of men and women who once reaching old age or retirement are left to their own solitude and loneliness with rarely their children having the time to spend with them as they are busy earning their living, which in turn leads to depression. Further the purpose of this project is to enable them to do all that they could not earlier as they were busy fulfilling their responsibility. Old age also comes with a multitude of illnesses, disability and more so loneliness. As the person is retired, the earning and thus his/herself-supporting capacity is greatly reduced. They do not have social security/Pension from government. Hence the objective of the project is multifold.
Floor wise plan
Motibai Thackersay Charitable Building, opp Dakleshwar Mahadev Temple, Mahalaxmi Temple Compound, Warden Road, Mumbai
Two rooms, of which one is a fully equipped library from where senior citizens can borrow books and the other, is a reading room where the seniors can spend their time in reading books/magazines/newspapers of their choice.
There will be an in-charge present at all times for maintenance and assistance.
First floor
A yoga and meditation center
Computer room
Activity center with facilities to play games such as carrom/chess/ludo/housie etc
Audio Visual Room/TV room.
Guest Speakers are  invited to share knowledge and give demonstration on nature remedies/homeopathy /acupressure /stress/positivity / humour club to name a few. Attempt is to make it a center where the elders feel free to organize activities within the framework prescribed
Expected Results
A happier and more comfortable old age and bonding among people who share the same.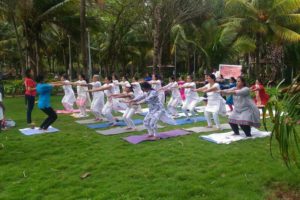 HELP THOUSANDS OF UNDERPRIVILEGED STUDENTS
TO FOLLOW THEIR DREAMS