I'm Rashika Ajeet and currently I'm pursuing a bachelor's degree in Psychology.
My journey with DBM INDIA began a few months back when I was going through different volunteering opportunities available on iVolunteer and one of those was teaching underprivileged students.
See l believe life is a beautiful journey where teaching and learning are the two faces of a coin. No matter where the coin is up in the sky. What matters is both heads and tails are the symbol of growth. You learn in both the cases while sharing the knowledge and by taking the knowledge.
I am sure that this thought came to me, because I happen to be the daughter of an exceptional teacher ( My Father). I know not everyone gets this beautiful chance of teaching and sharing her knowledge to someone who values it the most, so I didn't have to think twice about this .
It's been 2.5 months since then and I have to admit that my journey with DBM India has been nothing short of amazing. I'm teaching science to 8th standard students and to my surprise these students are just amazing and inspiring at the same time. They have a voracious appetite for knowledge .
The only challenge I faced initially was that I was not sure whether they were understanding everything or not, so for that I started asking questions in between the sessions and to make it more fun I started giving them points for every right answer. This way the students are attentive throughout the session. And I am satisfied with the fact that they are learning and growing each passing day.
I am extremely grateful to DBM India and it's entire team for this amazing opportunity and wish them all the best in this motivational journey.
Many students need immense motivation & inspiration from teachers & parents to work hard. Have a look at real life motivational stories of DBM Students who have inspired many students to work hard & lay a foundation for a successful life.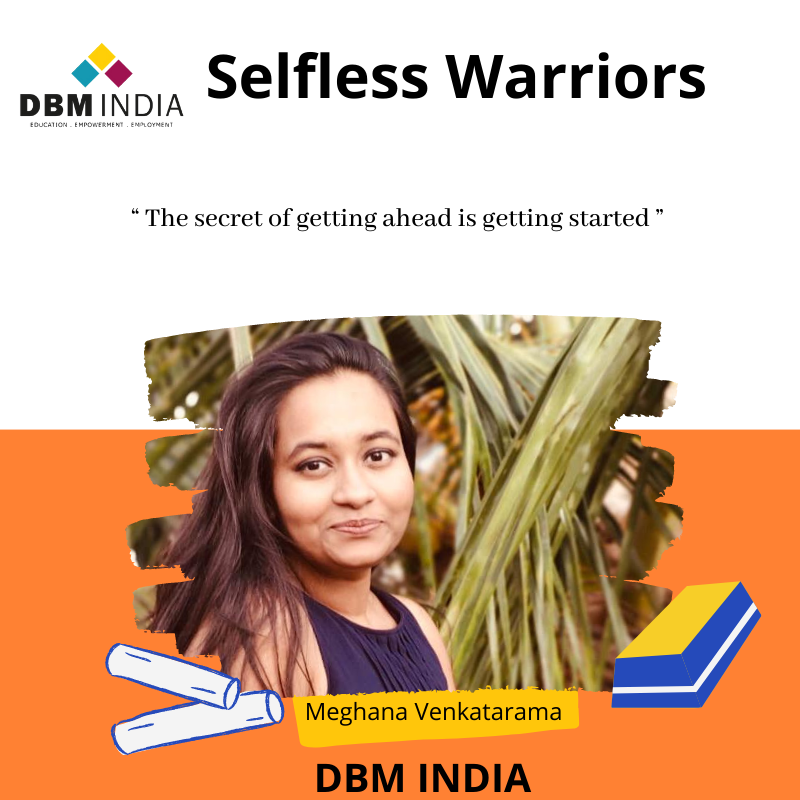 My name is Meghana Venkatarama. It's a pleasure to be heard by you. I reside in Bangalore, India, with my family and am currently pursuing Bachelor's in Technology in the field of Biotechnology at PES University, Bangalore.
I became acquainted with DBM INDIA through a close friend of mine who also is a volunteer in the organisation. I joined the organisation during the lockdown period of COVID-19 pandemic. My reason to join DBM INDIA was that I wanted to provide some benefit back to the society which had provided me with so much and helped me to move forward to my goals. This was achieved by the initiative of the organisation to provide the students of the slums in Mumbai, studying in the classes of 8, 9, and 10, which I believe are crucial years in any students life, assistance in teaching as their schools were closed.
What inspired me to teach at DBM INDIA were the students. They were so open to me and were ready to accept what I offered to them through my teachings, even though they knew very little about me. Teaching is not an easy task. It's like you want to make them understand something that they were unaware of, but it exists.
There were few challenges that I tried to overcome throughout my journey, major one being the language barrier as I belong to Bangalore . The second issue was due to the technicalities that come with online classes during the lockdown.
I believe that education can make a person think, feel, and behave in ways that can add up to the success of not only them but the community they are a part of. I also believe that the main objective of education is not only teaching but also learning. The person teaching can also learn about new things and see a particular point in a different view.
A positive thought that keeps me going forward towards my set goal is a quote from Mark Twain, "The secret of getting ahead is getting started." If one starts working towards one's goal even in a smallest action that can add success towards it, then that person is a lot nearer to his goal than an idle person. Lastly I would like to thank DBM INDIA for being the soul of this mission. Also to the team for encouraging us and making us believe that yes together we can make a difference.